START YOUR GARDEN Workshops
TWO GARDEN WORKSHOPS will be held on Sat. April 1st at no cost (registration is required). The Mazomanie Free Library will be hosting talks by a UW Master Gardener. The morning talk, at 10:30, will be SEED STARTING and the afternoon session, starting at 1:00 will be SQUARE-FOOT & RAISED BED GARDENING. Come for one or come for both.
SEED STARTING - Starting garden plants from seed can be a rewarding activity. Maybe you've it tried a time or two and for you it was a frustrating activity. Included in this talk are tips on factors that make for successful seed starting. You will learn how to purchase seeds, and plant and care for them until they are ready to be planted outdoors. You will leave this talk feeling confident in your abilities to start seeds right in your own home.
SQUARE-FOOT and RAISED BED GARDENING - square-foot gardening has been around since the 1970's. Mel Bartholomew wrote the original square foot gardening book and now has a new version out which is just as popular as the first one. This is a simple system based on 4 foot by 4 foot raised beds divided into simple one foot square grids that are raised from the ground. You'll get ideas for creating your own square foot gardening beds, a recipe for square foot garden soil, selecting and growing your plants and successfully harvesting your crops. You will also hear techniques for raised bed gardening and types of raised bed gardens, like the pizza garden, that is popular with kids.
In theses talks you will hear from a certified Master Gardener from Dane Co. UW Extension who will give you a solid foundation for growing your garden plants.
Both sessions will be held at Basecamp Cafe, 18 Brodhead St., Mazomanie, Wisc.
REGISTER by calling the Library (608-795-2104) or on our Facebook Event - Deadline is 3/29/23. 
PUZZLE EXCHANGE
Image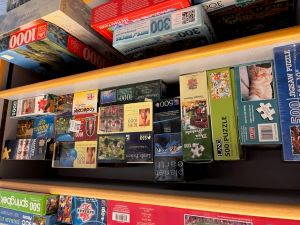 Do you buy puzzles, have a wonderful time putting them together but then leave them in the closet to gather dust? We created this exchange to make easy for our community to share puzzles that are no longer wanted. How does it work? - Bring a puzzle exchange. You may: swap one puzzle or donate a puzzle without swapping. When you are finished with the puzzle, you can: keep it forever, return it to swap for a different puzzle, return it with no swap.
Donated and returning puzzles and boxes should be in good condition and have all the pieces. Let us know if something is missing. The service is completely free. No library card or checkout necessary.
MAZOMANIE COMMUNITY FOOD PANTRY
Image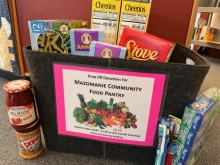 The library is a drop-off site for donations to the food pantry. Please, no perishable or frozen items. Paper goods and toiletries are also needed. The food pantry is open the 2nd and 4th Saturdays at the Mazomanie Community Building, 10:00 – 11:30 (masks are required to come inside). Your generosity is greatly appreciated. 
Image

BOOMTOWN MAZOMANIE by Frank Wolf
Image

Frank Wolf's latest book is available at the library. We have two copies; one for circulation and one for in library reference use. As Frank writes in the Preface, "This history book was written to provide an accurate historical record of the boomtown years of the small Wisconsin town - Mazomanie. The booming years were from 1865, just after the Civil War until 1900. Mazomanie was the second largest city in Dane County, of south central Wisconsin after Madison. The 1870 population was Madison 9,176, Mazomanie 1.143 and Stoughton 585. Mazomanie Village population peaked in 1880 at 1,222 and dropped to 1,024 five years later."
COVID-19 ANTIGEN RAPID TESTS AVAILABLE
Image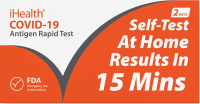 At-home COVID tests could make upcoming holiday reunions with family and friends safer. Free At-Home test kits available at the library. These are the same kits the federal government has offered and are available to anyone, no library card needed. We have a good supply on hand but do ask that you limit to 4 test kits per household (more kits may be available later).
FREE WiFi
Just select the "Library-Wireless" signal, connect and go! No more logging in with accounts and agreeing to terms of service first. Our WiFi signal is accessible 24 hours/seven days/week.
BEYOND THE PAGE' CAMPAIGN
Image

The Beyond the Page campaign is a joint effort of Dane County public libraries and the Madison Community Foundation to create a permanent endowment that will support humanities programming in all 28 libraries - forever. Learn more. 
Having trouble getting into LINKcat?
Your login is your 14 digit barcode number (no more shortcuts; and no spaces between numbers) and your password is your PIN. You can change your password (PIN) at any time or ask us to change it.