AFRICAN WAX PRINT QUILT DISPLAY
Our local quilters are at it again. In fall of 2018, one of the quilters traveled to South Africa. In the progress of travel, she happened across a fabric store in a tiny airport. The store had bolts and bolts of fabric. She started pulling bolts off the wall, pointing to others and before she knew it, she had 10 one yard cuts! (read more here)
Image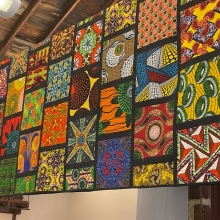 Image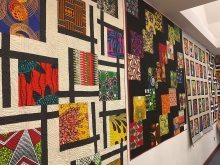 PUZZLE EXCHANGE
Image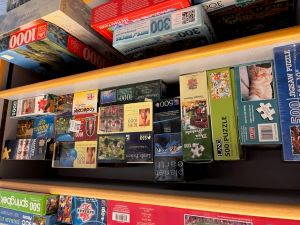 Do you buy puzzles, have a wonderful time putting them together but then leave them in the closet to gather dust? We created this exchange to make easy for our community to share puzzles that are no longer wanted. How does it work? - Bring a puzzle exchange. You may: swap one puzzle or donate a puzzle without swapping. When you are finished with the puzzle, you can: keep it forever, return it to swap for a different puzzle, return it with no swap.
Donated and returning puzzles and boxes should be in good condition and have all the pieces. Let us know if something is missing. The service is completely free. No library card or checkout necessary.
MAZOMANIE COMMUNITY FOOD PANTRY
Image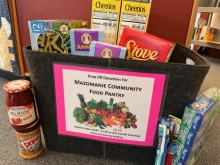 The library is a drop-off site for donations to the food pantry. Please, no perishable or frozen items. Paper goods and toiletries are also needed. The food pantry is open the 2nd and 4th Saturdays at the Mazomanie Community Building, 10:00 – 11:30 (masks are required to come inside). Your generosity is greatly appreciated. 
Image

FRIENDS OF THE MAZOMANIE FREE LIBRARY
BEYOND THE PAGE' CAMPAIGN
Image

The Beyond the Page campaign is a joint effort of Dane County public libraries and the Madison Community Foundation to create a permanent endowment that will support humanities programming in all 28 libraries - forever. Learn more. 
Having trouble getting into LINKcat?
Your login is your 14 digit barcode number (no more shortcuts; and no spaces between numbers) and your password is your PIN. You can change your password (PIN) at any time or ask us to change it.
FREE WiFi
Just select the "Library-Wireless" signal, connect and go! No logging in and agreeing to terms-of-service. Our WiFi is accessible 24/7.