It's a Crime!...a book discussion group for readers of murder, mayhem and mystery!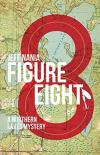 Our pick for February is 'Figure Eight; A Northern Lakes Mystery' by Jeff Nania [4.18 Stars by Goodreads]. While on routine patrol, John Cabrelli, a decorated law enforcement officer, is dispatched to a disturbance call. The tense situation requires all of his skill and experience get things under control. Then tragedy strikes, an innocent victim dies, and many lives are forever changed..
There are extra copies available at the library. 
Next meeting is Tuesday, February 14, 2023 at 2:30 pm.
If you would like to be added to It's a Crime!  e-mail list, please call the library at 608-795-2104. We will alert you to any changes in the meeting schedule or other updates.
It's a Crime! Reading List:
The Lincoln Lawyer – Michael Connelly
A Grave Surprise – Michael Koryta
(The works of) Ruth Rendell
Haunting Rachel – Kay Hooper
Still Life with Crows – Douglas Preston and Lincoln Child
Fat Ollie's Book – Ed McBain
Grave Surprise – Charlaine Harris
The Pardon – James Grippando
Skinwalkers – Tony Hillerman
The Thin Man – Dashiell Hammett (Jan 2009)
Winter Study – Nevada Barr (Feb. 2009)
Winter Prey – John Sandford (March 2009)
Dead Hot Shot – Victoria Houston (April 2009)
Rum Punch – Elmore Leonard (May 2009)
Potshot – Robert B. Parker (June 2009)
Black Cherry Blues – James Lee Burke (July 2009)
Curse of the Spellmans – Lisa Lutz (Aug. 2009)
The Price of Blood – Declan Hughes (Sept. 2009)
The Legend of Sleepy Hollow – Washington Irving (Oct. 2009)
Blue Heaven – C.J. Box (Nov./Dec. 2009)
Sick Puppy – Carl Hiaasen (Jan. 2010)
The Five Orange Pips – Sir Arthur Conan Doyle
A Letter of Mary – Laurie King (Feb. 2010)
Forty Words for Sorrow – Giles Blunt (October 2011)
A Window in Copacabana – Luiz Alfredo Garcia-Roza (November 2011)
Dog On It – Spencer Quinn (January 2012)
Bury Your Dead - Louise Penny (February 2012)
Mistress of the Art of Death – Ariana Franklin (March 2012)
A Morbid Taste for Bones – Ellis Peters (April 2012)
Deja Dead - Kathy Reichs (May 2012)
Indemnity Only - Sara Paretsky (June 2012)
Lost - Michael Robotham (July 2012)
In the Bleak Midwinter - Julia Spencer-Fleming (August 2012)
Dead of Night - Randy Wayne White (September 2012)
Christine Falls - Benjamin Black (October 2012)
The Lady in the Lake - Raymond Chandler (November 2012)
The Big Sleep - Raymond Chandler (December 2012)
(skipped Jan. 2013)
The Daughter of Time - Josephine Tey (February 2013)
A Murder is Announced - Agatha Christie (March 2013)
The Murder of Roger Ackroyd - Agatha Christie (April 2013)
A Blunt Instrument - Georgette Heyer (May 2013)
The Black House - Peter May (June 2013)
Freeze Frame - Peter May (July 2013)
Carved in Bone - Jefferson Bass (August 2013)
The Terra Cotta Dog - Andrea Camilleri (September 2013)
The Body Farm - Patiricia Cornwell (October 2013)
Faithful Place - Tana French (November 2013)
Christmas at the Mysterious Bookshop (December 2013)
Get Shorty - Elmore Leonard (January 2014)
Betrayal of Trust - J.A. Jance (February 2014)
Wicked City - Ace Atkins (March 2014)
Sense of Evil - Kay Hooper (April 2014)
The Edge - Dick Francis (May 2014)
And Justice There is None - Deborah Crombie (June 2014)
Storm Front - Richard Castle (July 2014)
Presumed Innocent - Scott Turow (August 2014)
The Hit - David Baldacci (Sept. 2014)
The Cold Moon - Jeffery Deaver (Oct. 2014)
Killing Grounds - Dana Stabenow (Nov. 2014)
Open Season - C.J. Box (Dec. 2014)
Thunder Bay - William Kent Krueger (Jan. 2015)
Dying on the Vine - Aaron J. Elkins (Feb. 2015)
The Watchman - Robert Crais (March 2015)
Along Came a Spider - James Patterson (April 2015)
The Territory - Tricia Fields (May 2015)
Stone Butterfly - James D. Doss (June 2015)
Why Kings Confess - C.S. Harris (July 2015)
The English Girl - Daniel SIlva (August 2015)
Bootlegger's Daughter - Margaret Maron (Sept. 2015)
Serpent's Tooth - Craig Johnson (Oct. 2015)
Degrees of Separation - Sue Henry (Nov. 2015)
Track of the Cat - Nevada Barr (Dec. 2015)
Transfer of Power - Vince Flynn (Jan. 2016)
The Storm Murders - John Farrow (Feb. 2016)
The Surgeon - Tess Gerritson (March 2016)
Murder in the White House - Margaret Truman (April 2016)
A Place of Safeety - Caroline Graham (May 2016)
The Lonely Silver Rain - John MacDonald (June 2016)
True Witness - Jo Bannister (July 2016)
By Its Cover - Donna Leon (Aug. 2016)
1222 - Anne Holt (Sept. 2016)
The Rage - Gene Kerrigan (Oct. 2016)
Bone by Bone - Carol O'Connell (Nov. 2016)
The Murder at the Vicarage - Agatha Christie (Dec. 2016)
Little Scarlet - Walter Mosley (Jan. 2017)
Stagestruck - Peter Lovesey (Feb. 2017)
A Man Lay Dead - Ngaio Marsh (Mar. 2017)
Strong Poison - Dorothy L. Sayers (Apr. 2017)
Forty Words for Sorrow - Giles Blunt (May 2017)
Dead Madonna - Victoria Houston (June 2017)
 Random works by Earle Stanley Gardner and A.A. Fair (July 2017)
The Carrier - Sophie Hannah (August 2017)
LA Outlaws - T. Jefferson Parker (Sept. 2017)
Sidney Chambers and the Shadow of Death - James Runcie (Oct. 2017)
Murder of a Beauty Shop queen - Bill Crider (Nov. 2017)
Skeleton Man - Tony Tillerman (Dec. 2017)
Spider Woman's Daughter - Anne Hillerman (Jan. 2018)
True Witness - Jo Bannister (Feb. 2018)
Bad Things Happen - Harry Dolan (Mar. 2018)
Spider Woman's Daughter - Anne Hillerman (Apr. 2018)
IQ - Joe Ide (May 2018)
Little Elvises - Timothy Hallinan (June 2018)
The Red Door - Charles Todd (July 2018)
Bruno, Chief of Police - Martin Walker (August 2018)
Slip of the Knife - Denise Mina (September 2018)
Murder in the rue Paradis - Cara Black (October 2018)
A Cold Day in Paradise - Steve Hamilton (November 2018)
The Dry - Jane Harper (December 2018)
Snowblind - Ragnar Jonasson (January/February 2019)
The Skeleton Road - Val McDermid (March 2019)
The Burglar on the Prowl - Lawrence Block (April 2019)
Patriot Threat - Steve Berry (May 2019)
A Rule Against Murder - Louise Penny (June 2019)
Invisible City - Julia Dahl (july 2019)
Havana Bay - Martin Cruz Smith (Aug. 2019)
Breakup - Dana Stabenow (Sept. 2019)
November Road - Lou Berney (Oct. 2019)
Atlantis Found - Clive Cussler (November 2019)
The Last Equation of Isaac Severy - Nova Jacobs (December 2019)
A Duty to the Dead - Charles Todd (January 2020)
The Second Life of Nick Mason - Steve Hamilton (February 2020)
Liar, Liar - Lisa Jackson (March 2020)
The Word is Murder - Anthony Horowitz (this book was not discussed due to schedule interruption from pandemic).
The Word is Murder - Anthony Horowitz (June 2022)
The Bat - Jo Nesbo (July 2022)
Innocent in Death - J. D. Robb (Aug. 2022)
Blood Money - Thomas Perry (Sep. 2022)
Billy Boyle: a World War II mystery - James R. Benn (Oct. 2022)
The Blue Last - Martha Grimes (Nov. 2022)
Spider Bones - Kathy Reichs (Dec. 2022)
Death on the Prairie - Kathleen Ernst (Jan. 2023)
Figure Eight; A Northern Lakes Mystery - Jeff Nania (Feb. 2023